Equipment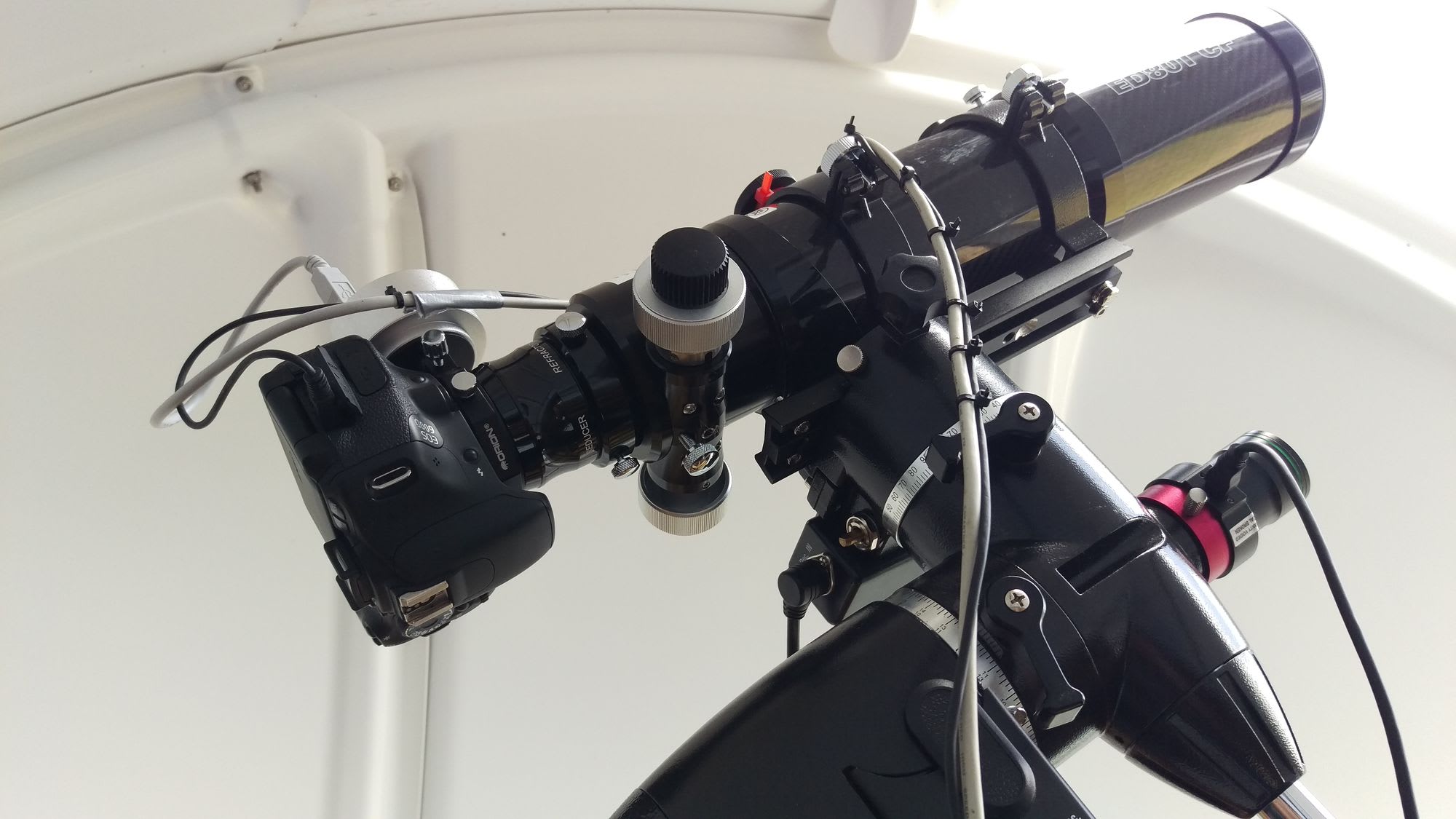 This is a complete list of all equipment I'm currently using.
Orion ED80T CF 80mm Refractor OTA
Orion Skyview Pro Equatorial Mount w/ GOTO Kit
SkyWatcher EQ6-R Pro Mount
Canon 600D Camera (unmodified)
Canon 600D Camera (modified: LP2 filter removed)
Orion Thin Off-Axis Guider (TOAG)
Orion Starshoot autoguider
Gigabyte Laptop (i7 cpu, 16gb ram, ssd)
QHY PoleMaster
Update 15-02-2021

SkyWatcher EQ6-R Pro mount replaces old Skyview Pro
Modified 600D replaces unmodified 600D
Sold Polemaster. It's mostly redundant now that I'm on a pier and can use >Sharpcap.
The imaging train is assembled as follows:
Focuser->2" nosepiece-> 18mm spacer-> TOAG/Autoguider-> TOAG canon adapter -> 600D Camera
The autoguider is screwed directly onto the TOAG's threading without spacers and without using the c-mount adapter which is attached out of the box.
The OTA is affixed to the mount with 90mm ID tube rings which are fastened to an Orion 8 inch dovetail plate.
Power:
For power I use a cheap 12v jumpstarter just for the mount although I do have a 2.0a 12v ac adapter available which can also power it. I have a spare battery for the camera as well as a recently acquired ac adapter for when mains power is available. The autoguider and polemaster are powered via usb on the laptop. The laptop itself I can currently only run off the battery or ac mains.
Update 2/2021 - I now image from an observatory equipped with Solar + 100AH battery storage and a 240v inverter. Most equipment is powered by either usb or 12v adapters which connect to the inverter.
Cabling:
The autoguider, polemaster and camera are all powered by usb cables which come with each respective device. However, I did need to purchase a usb-to-serial cable to establish connectivity between my laptop and the mounts GOTO handset for ascom/eqmod access. The rj11-to-serial cable to complete the connection was included with the mount.
Update 2/2021 - After upgrading to an EQ6-R, I can now connect it directly to my laptop via USB.